Are you looking for your ring size?
Here at H.AZEEM London we'll help you to find the correct ring size. When buying a ring as a gift, it is best to measure the receiver's finger or have them try on a similar sized ring. If a ring is needed urgently, use the above method to measure the inner circumference of the ring and buy a ring based on this measurement.
How to find my ring size?
1. Measure your finger with a string/paper:
Take a piece of string or paper and wrap it around your finger where you would like the ring to sit. Mark the point where the string/paper meets and then measure the length against a ruler.
2. Measure an existing ring:
Take an existing ring that fits the finger you would like to measure and place it on a ruler with the inside of the ring touching the ruler. Measure the inside diameter of the ring (from one end to the other).
3. Use a Ring Sizer:
A ring sizer is a tool that helps you to measure your ring size accurately. The sizer consists of a series of rings that you place on your finger until you find the size that fits.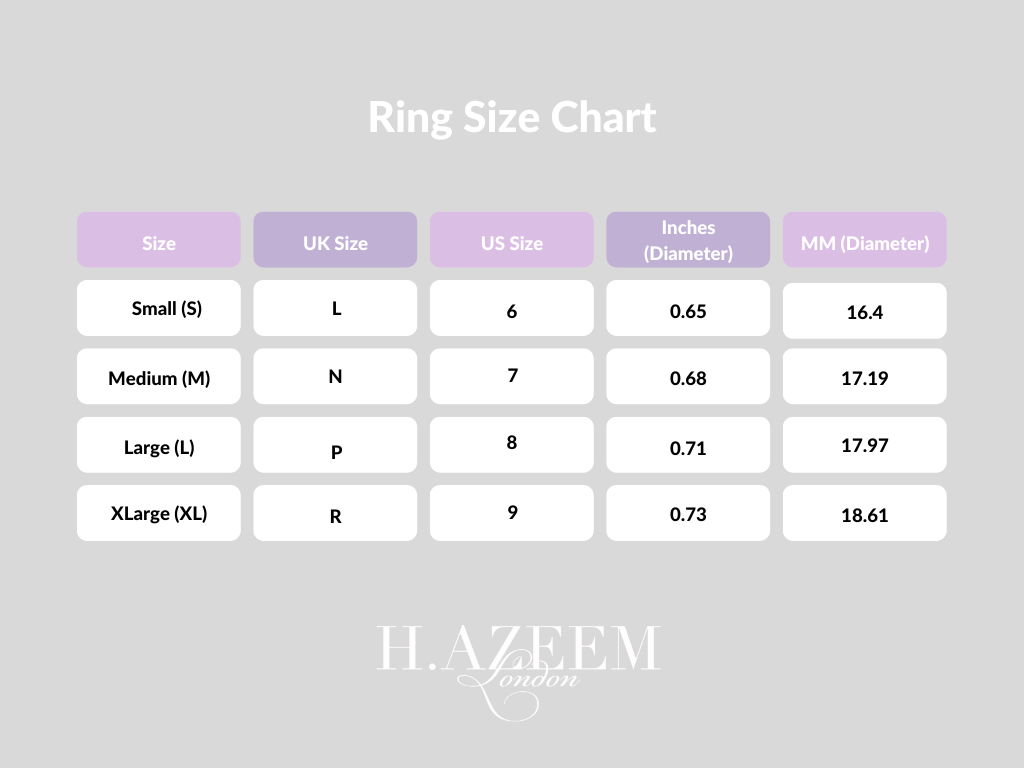 What ring sizes are we offer?
At H.AZEEM London we stock L,N,P,R ring size and they popular ring sizes in UK.

If you are not sure about the ring size...
We hope you have found this ring size guide helpful. However if you are not sure about the ring size, please get in touch with us and we are happy to help!

✕